Michael Neill
Author | Coach | Speaker
Michael Neill
is an internationally renowned transformative coach and the best-selling author of six books including
Supercoach
,
Creating the Impossible
, 
The Inside-Out Revolution
and
The Space Within
. Michael is often described as the 'coach's coach,' and commands extraordinary respect within his field for unleashing the human potential with intelligence, humor, and heart.​
He has spent the past 30 years as a coach, adviser, friend, mentor, and creative spark plug to celebrities, CEOs, royalty, and people who want to get more out of themselves and their lives. He has been consistently ranked by the international research agency GlobalGurus.org as one of the top 30 coaching thought leaders in the world.
His TEDx talks, 'Why Aren't We Awesomer?'and 'Can a TEDx Talk Really Change the World?' have been viewed by nearly two million people, and his blog and podcast, Caffeine for the Soul, is now in its 19th year and going strong. His books have been translated into 24 languages, and his public talks, retreats, seminars​, and online programs​ have touched and transformed lives at the United Nations and​ in over 60 countries and on six continents around the world.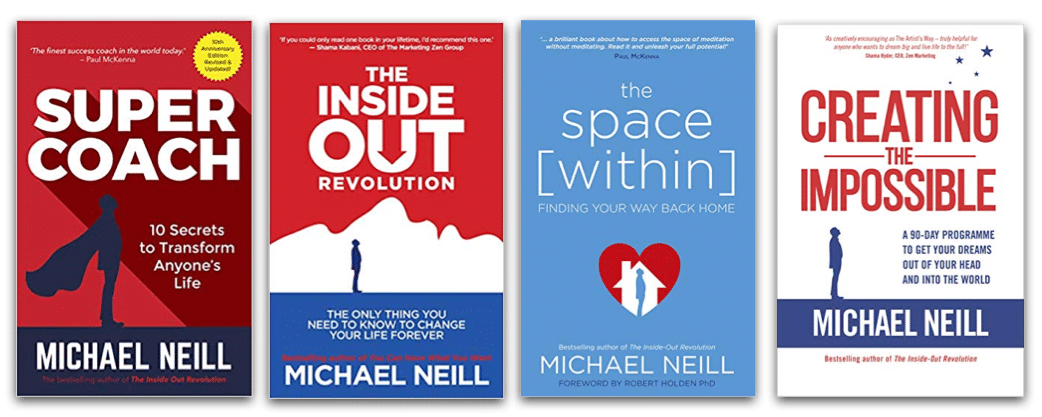 "If you're ready to tap into the infinite power that is within youand truly see what is POSSIBLE, this is the book for you. In a fun and practical way Michael will be your coach and guide as you take on the impossible. Take a leap of trust today and prepare to be amazed at the results."
– Iyanla Vanzant

"Michael Neill liberates us from limitations and ignites the fire of creativity that yearns to find free expression in, as, and through us. Whatever your dream, his books will be your trustworthy guide for cultivating the creative courage to bring it into manifestation." – Michael Beckwith

"What I love about Michael's work is the accessibility. There's no ego attached, no grandiose musings, just thought provoking conversations and real tools to give us the power to turn ideas into reality."
– Shaa Wasmund MBE
"What impresses me most about all his books is that they are incredibly three-dimensional—something happens in the reading of them that connects your consciousness to the power of the words. Read them and be changed."
" – Gay Hendricks, Ph.D
Watch Michael's first TEDx talk:
Why Aren't We Awesomer?
"Direct and practical – Michael's presence makes taking on challenges fun."
"Michael's authentic approach and insightful concepts demystify 'conventional wisdom' and have enabled me to look at success in a completely different way."
Watch Michael's newest TEDx talk: 
Can a TEDx Talk Really Change the World?