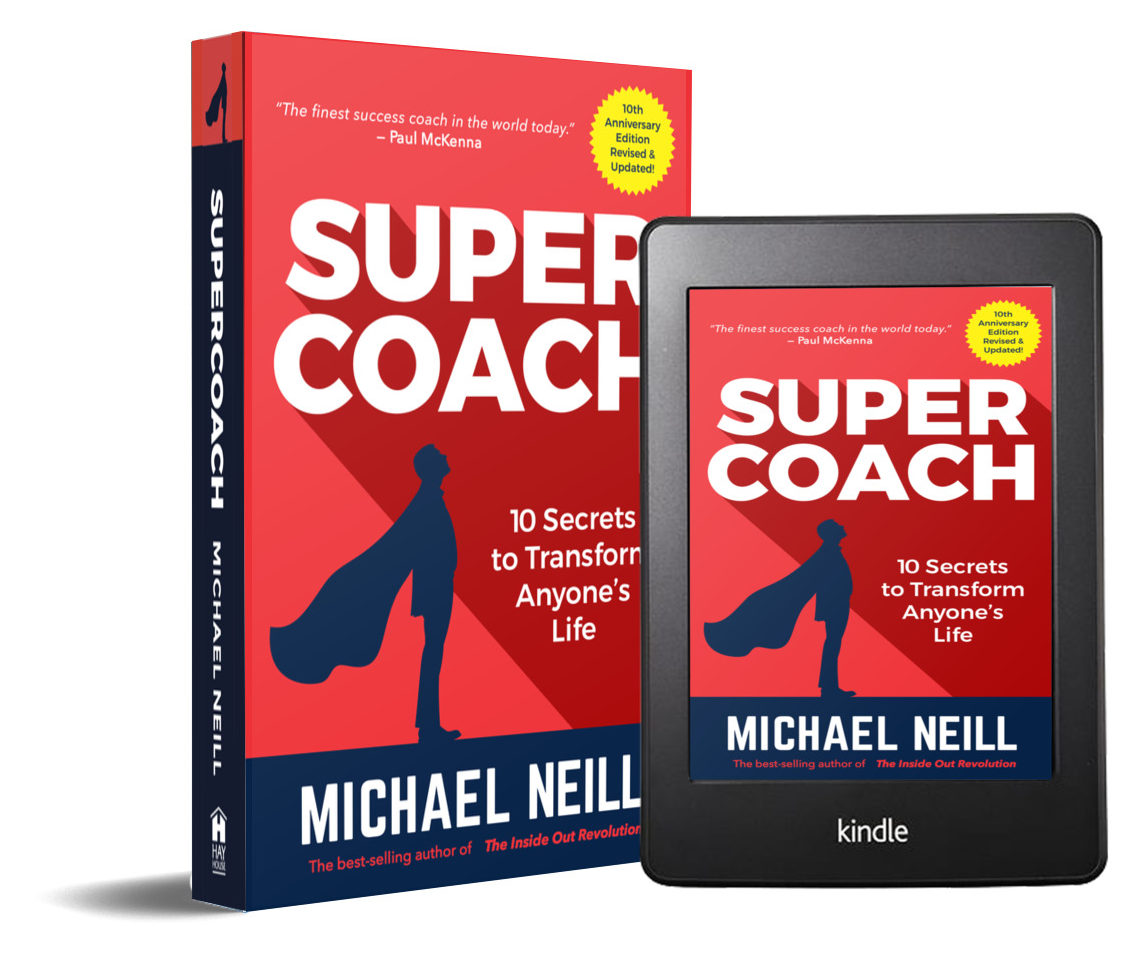 Can you really be coached by a book?
Join best-selling author and internationally renowned transformative coach Michael Neill as he guides you through 10 coaching sessions designed to change your life for the better.
Inside you'll learn:
a simple but profound explanation of how the mind works
why happiness is closer than you think
a whole new way of thinking about goals
the simple foundation of lasting relationships
a radical new understanding of human emotion
the secret to financial security in any economy
ideas to spark your creativity, productivity, and so much more!
For those who want to make more of a difference in the world and have a deeper, more meaningful experience of being alive, this book will unleash your potential with intelligence, humor, and heart!
⭐️⭐️⭐️⭐️⭐️
This book conveys a profound understanding of life, as well as asking one to take a thorough look at one's practices, habits and motivations. Highly recommended.
⭐️⭐️⭐️⭐️⭐️
Wow he just gets better and better! Listened to his audio set and was amazed but this really puts you on the spot and gives you the easy slap that you sometimes deserve. Check it out, as you will find it hard to come away without a postive new perspective on your life and goals. Thanks Michael.
⭐️⭐️⭐️⭐️⭐️
This is simply one of the best 'life transforming' books I have read. Michael Neill makes it easy for you to connect to him and more importantly, to yourself.
Foreword by Ajit Nawalkha
This was the sixth time someone had mentioned Michael Neill to me.
'Do you know Michael Neill? Have you read Supercoach? You should meet Michael.'
I was building Evercoach, a global community for coaches and educators, designed to help them coach better and build their businesses.
I had to get the book. I had to meet Michael.
As I sat and read through the original edition of Supercoach, I realized why so many people had encouraged me to read it. I felt moved and inspired by the simple secrets at the heart of the book. It was easy to read, yet profound in approach.
A few years later, I finally had the chance to meet Michael in person. Sitting at a café on a sunny day in Santa Monica, California, sipping our Bulletproof Coffee, we had a heart to heart about the world of coaching. We talked about everything – structures, challenges, and potential solutions.
After the meeting, I knew one thing for sure: Michael was exactly what you'd hope he would be from reading the book and a shining example of how a supercoach approaches coaching.
So when he asked me to read the new edition, I was both excited and a little nervous. Why change what had already become a classic in the field?
Human beings are among the greatest creators to walk on this planet. We create the greatest inventions, and we also create our own realities. Often these realities are influenced by what is happening outside us. We are influenced by those we are with – friends, family, colleagues. We react to the world – politics, the economy, the environment. It's like being in a boxing ring where all we do is defend ourselves in order not to get punched.
While constantly on the defense, how can we learn to play, as Michael says, 'full out and fearless'? How can we create a winning strategy when all our energy is focused on trying not to lose?
I've been in that boxing ring for too much of my life. As it happened, the week the book arrived I found myself once again caught up in the feeling of not being enough, struggling with the challenge of constantly comparing myself with my ideal self and where I thought I 'should' be, given everything I've learned and everything I've done.
As I started reading, I remembered why I had fallen in love with the first edition and I realized why I needed to read the book again. I had innocently become so lost in my 'reality' that I needed it to remind me of who and what I really was. I also realized why Michael had rewritten it – to make it even more accessible to even more people.
There is an innate truth about life that we already know inside ourselves – that we are perfect and whole as we are, and that we will continually forget that fact. We already know inside ourselves everything we need to know. We are the teacher we need. We are the coach that we need.
This book will show you how to unleash your inner coach as well as remind you of some simple truths about life. What it did for me when I needed it most is what I hope it will do for you in the coming hours…
Have you ever been in a place where you compared yourself to someone else, or to where you 'should' be in relation to your goals?
Has there ever been a time when you felt you didn't have enough money, or enough love, that your boss didn't care, or that your friends weren't giving you enough attention?
Does a lack of creativity feel like a constant challenge?
Are you giving everything you have but feeling like nothing that you do is good enough?
This new edition of Supercoach will help you with all these things and much, much more.
As you go through the ten sessions, I invite you to stop once in a while. Reflect. This book is not a just an enjoyable read that you can finish in an afternoon and then add to your bookshelf like a trophy. It's a personal coach that you can call on in times of challenge – and in times of wonder. It's a portable coach that will stand beside you through good times and bad, offering you exactly what you need at the exact moment you need it.
If you're searching for a competitive advantage in your career , read this book.
If you're looking for a better life, read this book.
If you're wanting to be a supercoach for yourself, for others, and for our planet…
Read. This. Book.
Ajit Nawalkha
Co‐founder, Evercoach & Mindvalley Teach
'Supercoach is a perfect guide to help you navigate from thought to possibility to intention to results. This is much more than a "feel‐good" read – this book is transformational. Read it and go make a difference!'
Rob Owen, Thunderbird School of Global Management
'Supercoach is turbocharged with simple, attainable lessons that cut to the heart of life's big issues. If you want to create a more meaningful experience of being alive, read this book!'
Laura Berman Fortgang, Author of The Little Book of Meaning
'Reading Supercoach is like having a reliable best friend on hand, passing on solid advice each time you read. How many "nuggets" does it take to make a gold mine? The answer in terms of wisdom is contained herein.'
Andy Fowler, Director of VFX at Netflix
Want to experience more?
This twelve session video coaching program gives you a front row seat for the kinds of conversations I have with CEO's and high performers in a wide variety of fields, designed to wake you up to a whole new way of being in the world.
If you're ready to get more out of yourself than ever before (with less effort, stress, or pressure than you think), I created this program with you in mind.
Here's what we cover:
Session One: Getting Started
Session Two: Introducing the Three Principles
Session Three: Why Happiness is Closer than you Think
Session Four: The Power of Hope
Session Five: A Whole New Way of Thinking About Goals
Session Six: The Simple Way to Make Decisions
Session Seven: A Radical New Understanding of Human Emotion
Session Eight: Productivity at the Speed of Life
Session Nine: The Difference that Makes the Difference in Relationships
Session Ten: How to Ask for What You Want
Session Eleven: The Secrets to a Lifetime of Financial Security
Session: Twelve: Putting it All Together
Watch a couple of previews from the program here: